PROUD HOST VENUE OF CHS BIRMINGHAM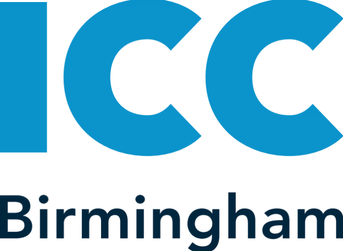 BRINGING THE EVENTS INDUSTRY TOGETHER IN THE HEART OF THE UK 
For over 30 years the ICC has provided a location that not only brings people together, but sparks real change. Our multi-level venue offers a choice of flexible halls and suites, which when coupled with our private foyer spaces creates an exclusive setting that always feels inclusive. And because we're based slap bang in the centre of Birmingham, we offer unrivalled connectivity with 90% of the UK able to get to us within four hours.
So why choose the ICC? We understand that it's one thing to bring people together, but quite another to make them feel connected. We also understand your need to pack out your event and deliver an occasion that makes some real noise and leaves your visitors feeling uniquely captivated. And that's where our game-changing experience comes into its own.
We believe that behind every successful event is a rewarding partnership between a venue and an organiser. An alliance based on trust, grounded by insight, yet positively fizzing with creativity. And such partnerships can only happen when collaboration is embraced from start to finish. So working as a dedicated extension of your team, the first thing we do is cut out all the unnecessary fuss and faff and focus on keeping things as simple as possible.
Next we identify what's going to make your event truly ownable and memorable. After all, it's more fun to innovate than imitate. We'll discuss whether our whopping 3,050m2 exhibition Hall 3 or smaller spaces are the right fit. Pinpoint where our in-house graphics and production teams can use their expertise to deliver outstanding stand out.
We'll also get our award-winning in-house catering team Amadeus involved, who with 650 pieces of silverware under their aprons understand how to serve up menus that raise smiles and energy levels alike.
Then of course there's our handy central Birmingham location. Not only is it easy for your audience to get to the ICC, most won't feel exhausted from a lengthy trip when they arrive.
Should they wish to stay over, they'll have their pick of over 25,000 rooms. Not to mention a delicious choice of award-winning restaurants, retail powerhouses and cool attractions right on the doorstep. Hardly a surprise that Birmingham has a £12 billion visitor economy and continues to attract the country's top talent and businesses.
Across the ICC and our sister venues the NEC and Vox we offer a massive 80 years of combined experience offering reliable, credible, and trusted support. And every member of the team has a hunger and determination to compete and deliver results. Because here at the ICC events are more than simply our lifeblood – they're our passion.
FINDING THE PERFECT EVENT SPACE, IT'S AS EASY AS 1, 2, 3…
Did you know the ICC is part of the wider NEC Group family, sharing the same expert team with sister venues the NEC and Vox Conference Venue?
This means you can forget hours of researching and making endless calls or emails to find the perfect event space. With our consultative approach, you can access an all-encompassing array of venue and service options, advice, and ideas on how we can help you bring your event vision to life.
Big, small, blank canvas, all set up and ready to go… whatever you're looking for, you've got it in 1. Well 1,2,3 actually – with one expert team, two central locations right in the heart of the UK and three amazing venues to host any event for as little as 10 delegates to as many as 10,000+.