As 2022 draws to a close, it offers an ideal opportunity to reflect on the year's highlights and learnings. For the CHS Events team, CHS Birmingham was a major highlight of 2022! The show returned on 1 November for its second edition and what a Show it was.
The theme of the education programme was Growth – particularly fitting as the Show saw significant growth in both buyer and exhibitor attendance this year.
2022 saw a 26.5% increase in buyers with 25% being completely
new to CHS Events. Demonstrating that the events industry is rebuilding and thriving once again and that CHS Birmingham has established itself as a key event in the annual events industry calendar.
Buyers from all areas of the events industry were in attendance from corporates to associations to agents and venue finders, travelling from all over the UK with a particularly strong contingent from the Midlands and South.
Attendees enjoyed the CHS VIP experience, networking with fellow industry colleagues and peers and meeting with 185 exhibitors from destinations, hotels, venues and event suppliers. Another key draw was the education programme which featured leading industry speakers discussing everything from Annual Salary Surveys to Building Your Personal Brand.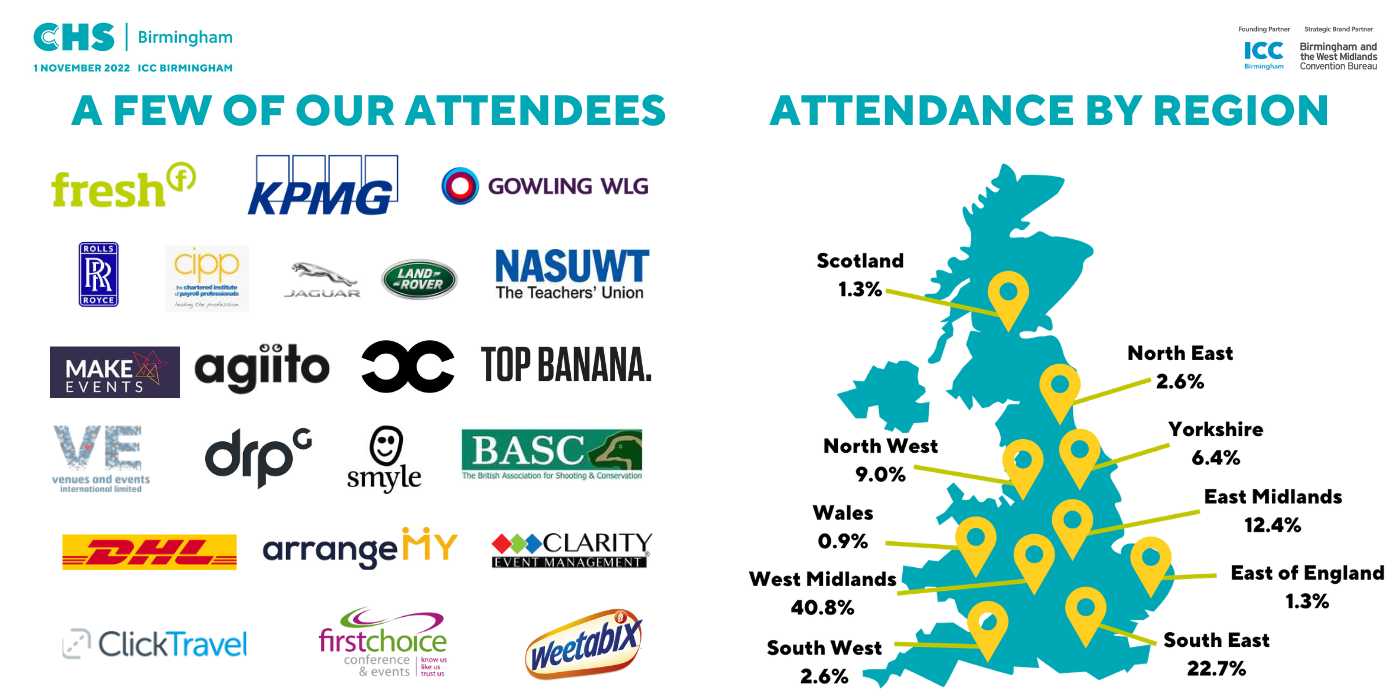 Feedback from the Show has been phenomenal from both exhibitors and buyers:
Really good day and night at CHS Birmingham! This event was really beneficial for me in my career, I got to meet so many industry peers, venues and suppliers in 1 day under 1 roof! I learnt so much and made some great connections. the destination brunch was really insightful and it was nice to see those who I have only spoken to via email!

Taeja Lucas, Black Book (Buyer)
CHS Birmingham is one of those special shows for the industry and we were delighted to join them for our second year exhibiting. It's a lovely opportunity for the industry to get-together and for us, we always find it a real mix of meeting new clients and seeing lots of faces we know very well! The feel of the show is very relaxed and the day is jam-packed full of relevant content, a wide range of stands and lots of lovely touches to make both exhibitors and guests feel really welcome. A must-attend in the industry calendar.

Sophie Robinson, Lick Me I'm Delicious (Exhibitor)
CHS Birmingham will return once again in 2023 on the 31 October 2023. Make sure you add the date to your calendar and BE A PART OF IT!