Following the news that Clean the World has appointed CHS Group & Emma Cartmell as their UK ambassador, we caught up with their chief sustainability officer and executive director for Canada and Europe, Pierre Daigneaut:
What is Clean the World?
"Clean the World is an organisation that was set up with a two-part mission: to reduce the waste created by discarded soap and shampoo products; and to prevent the millions of deaths caused by hygiene related illnesses every year. We achieve this by working with hotels across the globe to collect their waste soap and shampoo products. We recycle them through a third-party tested and approved sanitization process and then we distribute the repurposed soap worldwide through non-governmental partnerships and to domestic homeless shelters."
Why have you joined forces with Emma Cartmell and CHS Group?
"We currently work with over 5000 hotels across the globe, but only 20 in the UK and Ireland, so we are really keen to see more UK hotels join our programme.
"Emma and her team have a great presence in the UK that we can tap in to. They work with all the key industry associations, booking agents and venue finders. They also have a huge network of venues – especially the independent ones that would be harder for us to find and make contact with. CHS Group will be helping us spread the word to venues to encourage them to get on board, and also to their network of venue finders and event buyers who, once aware of the programme, can drive it from the other side and encourage their venues to become part of the programme."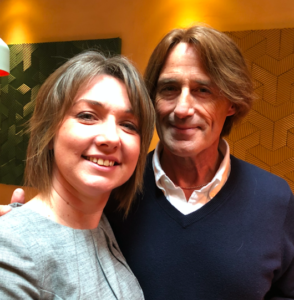 What can hotels do to help?
"Sign up! It's an easy process, with a monthly fee that is based on the number of rooms in the property. A hotel simply completes the registration form, we send them some bins and they start to collect their discarded soaps and plastic shampoo bottles. When the bins are halfway full, we provide them with UPS shipping labels and new bins.
"It's a great CSR benefit and one that venues should be really proud to promote. Being part of the programme gives venues the edge and a great point of difference to their competitors.
"More and more corporate companies are asking for green, sustainable events and this is one way in which a hotel can comply."
What can event organisers do to help?
"Event organisers can help in so many ways – firstly they can ask their venues if they are part of the programme, and if not, why not! As event organisers start asking their venues about the programme, awareness grows and more and more venues will be encouraged to sign up.
"Event organisers can also pay a one-off fee for their chosen hotel to be part of the programme for a month – whilst their event is being held. Finally, organisers could incorporate a 'hygiene pack' building session as a team building element of their event. We supply boxes of products and then the delegates create an assembly line and create the packs. It's a brilliant activity and a great way for teams to work together. We see teams get very competitive and have loads of fun whilst creating something they know is really worthwhile and will have a lasting impact. How many other teambuilding activities could actually save someone's life?"