We are already more than halfway through January and now fully embedded into 2023. This time of year is a great time for many event profs to take stock, reset and plan for the year ahead before the busy event season kicks off in March. For attendees of our next Inspirational Venue Roadshow on 6th February at the Lakeside Hotel & Spa, there will be the opportunity to get set for the year ahead all whilst brushing up on their hotel and venue knowledge!
The Lakeside Hotel & Spa is a 4-star Superior Hotel resting exclusively on the southern shore of Lake Windermere – part of the Lake District World Heritage site – in the most beautiful corner of England.
With restful bedrooms, delicious fine dining inspired by fresh local produce and indulgent treatments in their luxury spa and pool, Lakeside is the perfect place to escape. With a seamless blend of country-house character and contemporary four-star luxury that will make you feel completely at home. It's built entirely for creating amazing experiences and sensational events that give serious impact and that important WOW Factor.
Guests at our February IVR will have the opportunity to experience the amazing hospitality of the Lakeside Hotel & Spa. Here is a sneak peek as to what's in store:
Luxury Private Cruise on Lake Windermere
After one-to-one appointments with exhibitors, guests will have the opportunity to get out into nature and enjoy the fresh air and breath-taking scenery on a luxury private cruise of Lake Windermere. Departing directly from the shores of the hotel expect to see stunning mountain views, secluded bays, and the many wooded islands of England's largest lake, all whilst enjoying drinks and refreshments courtesy of our hosts.
Aaanndddd relax…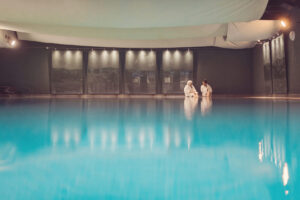 Slow down, relax and take some free time to explore the hotel. The beautiful Lakeshore views are never far away at the Lakeside, take them in whilst warming up by the cosy fire with a tipple (or two). Or perhaps indulge in a pamper session in the glass-wrapped haven that is the Aveda Spa, take a dip in the heated pool before discovering the delights of the sauna and steam room.
Dinner in the Lakeview Grill Restaurant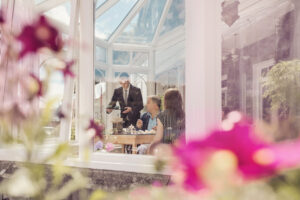 What better way to end the day than with dinner in the hotel's fine dining restaurant the Lakeview Grill? The Head Chef Adrian Fenton is passionate about sourcing Cumbria's freshest seasonal produce to curate beautiful dishes that let the flavours speak for themselves. Guests can expect to be wowed by the fine selection of food and drink and offer all whilst enjoying the opportunity to continue networking with friends and colleagues.
Here at CHS Events, we understand that your time is precious and we appreciate you investing that time in our events. Our IVRs are designed to provide the perfect opportunity for event professionals to meet 20 inspirational venues from across the UK in one highly focused day – our aim is to send you home inspired, well-connected and having had a great experience with us. The Lakeside Hotel & Spa event is now fully booked with a waitlist in place, however our third IVR event in this series will take place at Butlins in Bognor Regis on 20 March.
If you'd like to get more information about registering to join the waitlist for the Lakeside Hotel & Spa or learn more about our upcoming IVR at Butlin's Bognor Regis, head to https://www.chs-events.com/our-events/ or email our Event Director, Michelle Rennoldson on [email protected]
If you are a venue or hotel and would like to get more information about exhibiting on the IVR 3 Series or future programmes please head to https://www.chs-events.com/exhibit-at-the-inspirational-venue-roadshow/ and complete the enquiry form.